Vehicle Warranty Contracts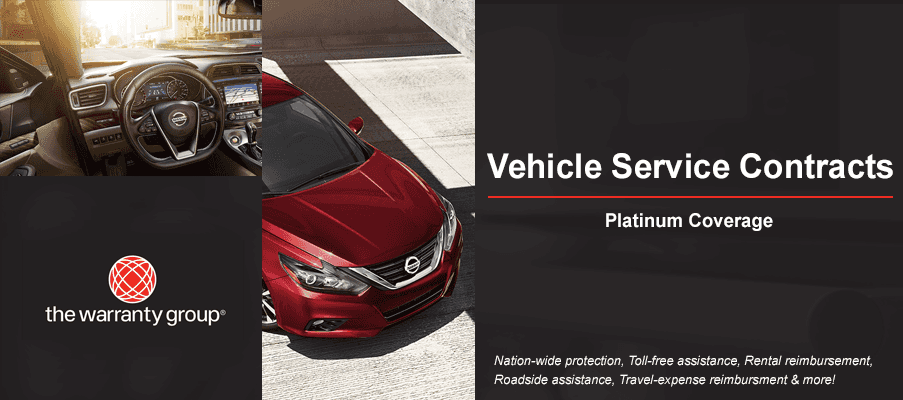 At Quirk Nissan we offer the platinum coverage service plan from The Warranty Group. For a complete list this plans details please download this pdf. Below we will highlight the key take features of this warranty. If at the end you have questions, please call us. We would be more than happy to help you get a better understanding of what this warranty will cover.
EXAMPLES OF PLATINUM COMPONENTS INCLUDE

All on-board computers, sensors & relays
Compact disc player*
Radio assembly, speaker system & antenna*
Anti-theft system*
TV, VCR & DVD systems*
Navigational system*
Air bag assemblies & sensors
Sun roof seals, frame & actuating mechanism
Convertible top frame & latches
Emission components (after federal emission
warranty has expired)
Heated windshield
Steering wheel & integrated controls
MacPherson struts
Adjustable shock support
Rear suspension control arms & bushings
Torsion bars, coil springs, & leaf springs
Tire pressure sensors
All rear view mirrors & remote cable actuating
mechanisms
Manual and power retracting seat belt
assemblies
All rear wheel steering system
And much, much more!

*Factory Installed
What is Not Covered (Exclusions)**
1. The maintenance services and parts described under Maintenance Requirements as shown in the Mechanical Repair Service Contract or in the Manufacturer's Maintenance Schedule for your vehicle.
2. Other normal maintenance services and parts including engine tune-up, (includes spark plugs, glow plugs, ignition wires, distributor cap and rotor), carburetor, batteries, filters, lubricants or fluids, air conditioning refrigerant, engine coolant, all hoses and belts (not specifically listed), wiper blades, brake pads and shoes, brake rotors and drums, suspension alignment, constant velocity boots, tires, wheel covers, wheel rims, wheels, wheel balancing, shock absorbers, exhaust system, catalytic converter, friction clutch disc and pressure plate and clutch throw out bearing.
3. Glass, glass framework and fastening adhesives,
sealed beam head lamps, light bulbs, lenses, trim, moldings, bright metal, upholstery, vinyl and convertible tops, paint, sheet metal, bumpers, alignment of body parts, flexible body parts, door panels, body panels, structural framework, structural welds, hinges, door handles and removable hardtop assemblies.
**Additional exclusions apply, see the Mechanical Repair Service Contract for details.